Ramon Goglio Family Album
Ramon "Ray" Goglio was born in Leechburg, Pa. on April 9, 1912. He worked at US Steel in Gary In before WWII. He was drafted into the service in 1940. He attended OCS with his brother Alex and cousin Joe Goglio. He served as an infantry officer during the Italian campaign, rising to the rank of Major by the end of the war. After the war, he was able to visit the Italian family in Alpette many times, bringing them items that were difficult to find at that time.

He married Valeria Garay in Leechburg on May 20, 1946. He and Steve Fondrk owned a bar in Patrolia Pa. from 1946 until 1949.
The family then moved to Riverdale Md. Ray sold real estate, for many years. Later he worked at the Post Office. He and Val moved to Milwaukee about 1985.
Ramon and Valeria's wedding picture.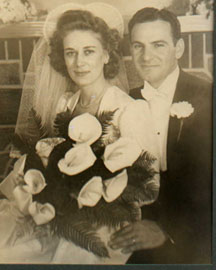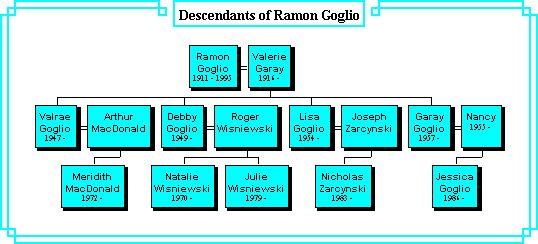 Ray's high School Picture
Ray in the Army 1940
Picture of the Valeria and her children in Feb, 1995 taken at the wake for husband Ramon.
Valrae (Goglio) Mac Donald, Debby (Goglio) Wisniewski, Lisa (Goglio) Zarcynski, Valeria, and Garay Goglio.
Picture of Valeria and Ramon's grandchildren: taken in 2000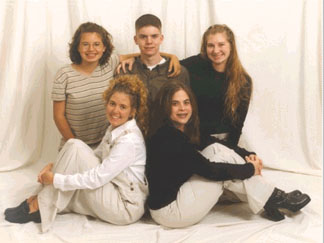 left to right top row
Jessica Goglio - Garay's daugher, Nicholas Zarczynski – Lisa's son, Julie Wisniewski – Debby's younger daughter
left to right bottom row:
Natalie (Wisniewski) Johnson – Debby's older daughter Mackenzie's mom), Meredith Macdonald – Valrae's daughter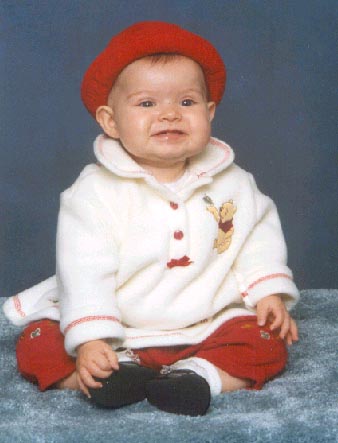 Ramon & Valeria Goglio's first great grandchild arrived on Thursday, May 18th, 2000 2 days before Ray and Val's 54th wedding anniversary. Mackenzie was born at 8:39 a.m. weighing in at 6 lbs. 8 ozs.
This picture was taken at approximately 5 ½ months old in November 2000
Lisa
Garay March 2003